Introducing Fruit-Full Kids to the JellyTelly Store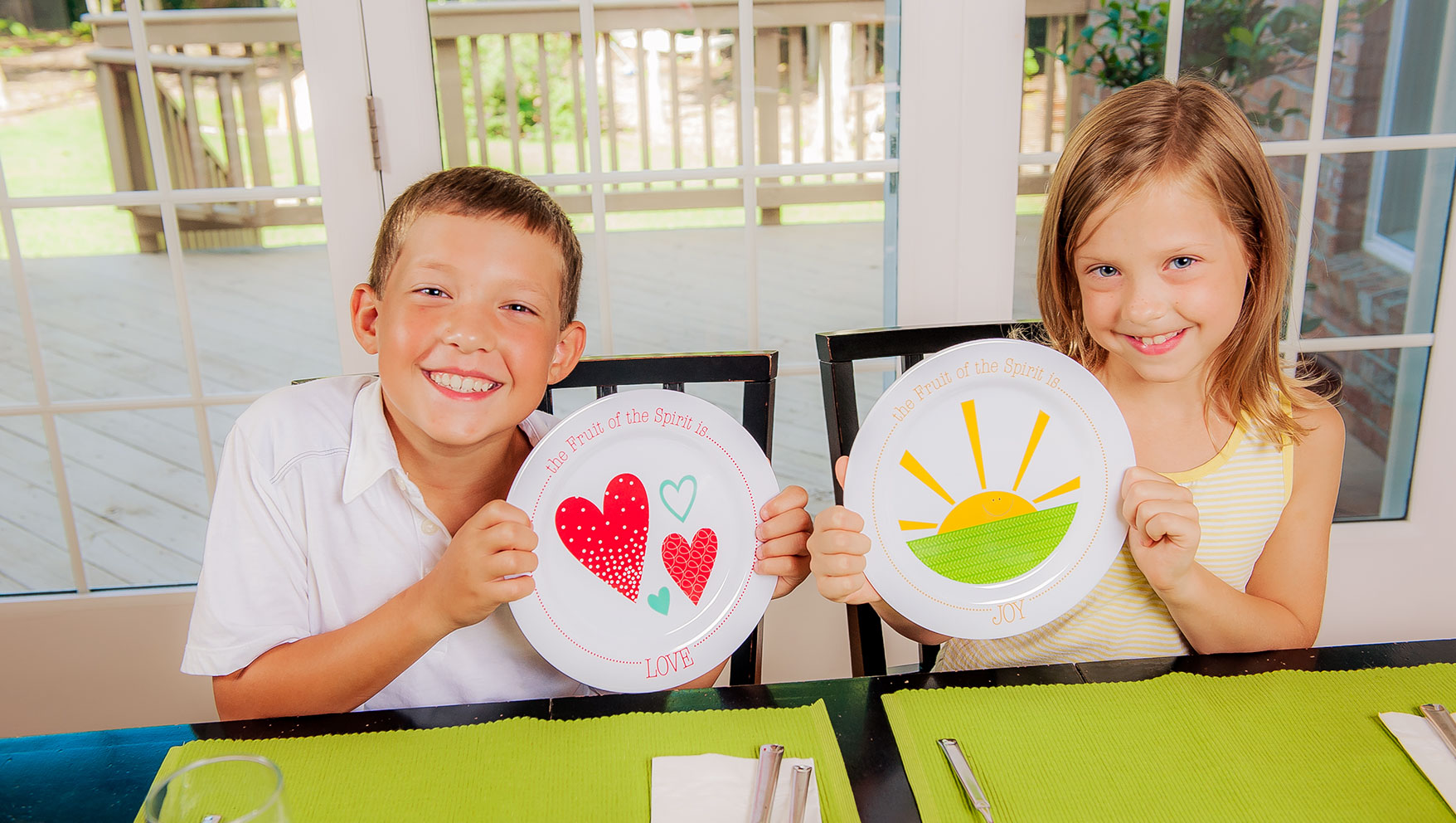 The Fruit-Full Kids Story
Hi. I'm Laurie Canata, founder of Fruit-Full Kids™ and mother of four.
To be honest, Fruit-Full Kids™ started as a joke. I was having a particularly frustrating day with my children. Maybe that doesn't happen at your house, but it does at mine! My kids just weren't being nice! I said (sarcastically), "I'm going to make a kindness award. If any of you can be nice to the others all day, you'll get it!" I then turned to a friend and muttered, "I'll never have to come up with that award!" But God seems to have a good sense of humor!
As you may have guessed, my kids surprised me. Their behavior began to improve and they kept asking what the award would be, and if they had earned it. By dinner I realized that I was going to have to follow through on my well-intentioned, but sarcastic, whim. When we sat down to dinner, I congratulated each child for the kind things he or she had done. I singled out one in particular and served his dinner on a different plate. "Ta Da! The kindness award!" The next day, the kids kept talking about who was going to win the kindness award that evening. Something was different. They held doors, gave hugs, and carried groceries. I realized I was on to something!
My kids and I had spent time talking about the Fruit of the Spirit (Galatians 5:22-23) being God's behavior standard, so we started adding other behavior traits, and the award became the Fruit of the Spirit award. The response was just as positive and things took off from there.
There's something very powerful about simply recognizing good behavior with an award. And the break from the cycle of bribing the children with sweet treats or toys is very refreshing. I started working the fruit of the Spirit children's plates concept into breakfast and lunch to encourage the kids to look for ways to show kindness, joy, or patience that day. And when we have a rough day, I can always say, "Today's award is for love, because I always love you." Not only has this had a big impact on my children individually, but it has also fostered greater Christ-focused family interaction at the dinner table.
I am continually amazed how the concept of kid's plates have produced real life change. There's nothing magical about the children's dinner plates. They are just a tool God is using to produce Christ-like character in our family. And because some things are too good to keep to yourself, it's my privilege to share this tradition with your family. Make your mealtime fun, create some teachable moments, and encourage the growth of your little ones' Christian character with Fruit-Full Kids™.
Are you looking for ways to use your Fruit-Full Kids plates to dig deeper into the Fruit of the Spirit? Well, here are some hints to help you out!
Start your day off with breakfast on the Fruit-Full Kids Love plate and give your child some spiritual nutrition! Encourage your child to think about who they love, and how they can show it. While they get their physical nutrition help them think about family, friends and neighbors that could use a little love!
Maybe your child waits until you are off the telephone to ask a question. (I said maybe, no promises!) That's a behavior you certainly want to see again! Make a big deal about this little accomplishment by serving your child's next meal on the Fruit-Full Kids Patience plate, and celebrate the behavior that you want to see repeated.
Tell a Bible story at the dinner table and tie it into one of the plates. For instance, maybe your child just loves the tractor on our Goodness plate. Tell the story of the Good Samaritan from Luke 10:25-37. Talk about which character was good, and then ask your child to think of some ways that God is good, or how he or she can be good too!
Help your child learn Scripture by associating it with their favorite plate. For instance, have your child practice saying, "Sing joyfully to the Lord, you righteous; for it is fitting for the upright to praise Him" (Psalm 33:1) every time they eat from the Joy plate.
There is no shortage of ways to use Fruit-Full Kids plates to make an impact on your kiddos. No matter how you decide to use them, I pray that they will be a blessing to anyone gathered at your table.
One more thing before I go - I want to make it clear that the intention behind Fruit-Full Kids is not just behavior modification. It's about Spirit-driven behavior modification. This is a lesson I am still learning. I am not always capable of being patient or self-controlled, just ask my husband or my kids! But I am always capable of allowing the Holy Spirit to work in me to change my heart, and ultimately my actions. What a blessing to be able to start talking about this with our kids at a very young age! Don't be surprised if all the members of your family, including you, start producing good fruit!